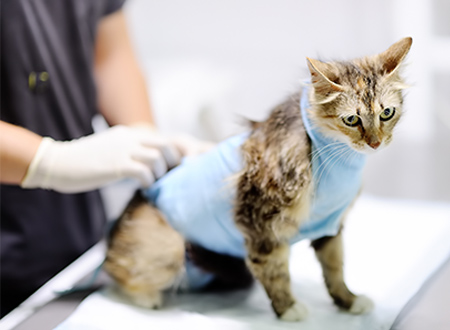 We provide many surgical services at our clinic including routine spay and neuters and soft-tissue surgeries.
When the unthinkable happens, you'll want someone you can trust who has both the skills and the tools to help your furry friend feel better.

Surgical intervention can give your pet aid and comfort while reducing the risk of diseases and personality changes.
Once veterinary surgery is scheduled, it is natural to feel anxious. Rest assured, we understand the bond between pet and owner. We treat your pets as if they are our own.
We take every reasonable safety measure to ensure the best possible care during surgery. Animals are constantly monitored using specialised equipment the same as or comparable to that used in human hospitals. This equipment measures your pet's heart rate, breathing rate, blood pressure, temperature and oxygen saturation.
Following the anesthesia, your pet may be drowsy but this should wear off in a number of hours. In some cases, it may take a day or so before their behaviour returns to normal. If you have any concerns following the surgery, please contact our team immediately.
Surgical services include:
Spay and Neuters
Cruciate Repairs – Knee surgery
Cesarean sections
Lumpectomy – lump removal
Exploratory – Foreign body, torsion, various others)
Laceration Repairs
Cystotomy – Bladder stone removal
Adenectomy – Anal gland, Cherry-eye removal
Splenectomy – Removal of spleen
Cardiology
Gastroenterology
Shop Online
Order your pet's specialty food products through our online store. Pick up at the clinic or get it shipped to your home.
Note: Please place orders Mon-Sat as requests have a review and approval process.