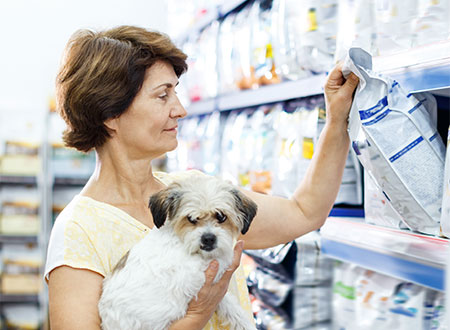 Nothing gets your pet's tail wagging like meal time, but did you know that diet and nutrition is just as important for your pets as it is for us? It can make a huge difference in their health and quality of life.
Obesity is a common problem among pets, as it can be easy to over-feed a pet that knows how to beg for treats. Being overweight is a serious problem for animals and can cause real health problems as they get older. With proper diet and exercise, all pets should be able to meet their dietary needs and be within a healthy weight range.
Our expertise will ensure your pet's diet is a well-balanced mix of protein, vitamins and minerals, carbohydrates, and lipids to give your pet energy, strong muscles, and a fresh-looking luscious coat.
Pet's nutritional needs change as they enter different stages of their lives. We can help develop diets for all stages of life and conditions. We will take your pet's breed, age, weight and lifestyle all into consideration.The best way to make sure your pet's needs are being met is to consult with us about a diet made specifically for their lifestyle.
Call us today to schedule an appointment to discuss your pet's nutritional needs.
Shop Online
Order your pet's specialty food products through our online store. Pick up at the clinic or get it shipped to your home.
Note: Please place orders Mon-Sat as requests have a review and approval process.