Digital Radiology (X-rays)
Okotoks Veterinary Clinic is proud to provide an array of diagnostic services with state-of-the-art technology available to care for all your pet's healthcare and well-being needs. We have your pet's best interests at heart and want them to live long, happy, and healthy lives and our diagnostic tools help with that.To keep your pet feeling their best, schedule an appointment with us today.
We have state of the art digital radiography equipment on site which is used in diagnosing pathologies such as bladder stones, fractures, internal trauma, skeletal abnormalities and dysfunction (arthritis, spondylosis, etc.)
This technology can show us other internal issues, as with the image of the dog below who swallowed a battery.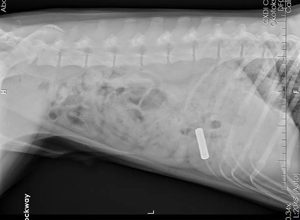 Shop Online
Order your pet's specialty food products through our online store. Pick up at the clinic or get it shipped to your home.
Note: Please place orders Mon-Sat as requests have a review and approval process.

In-House Laboratory Equipment & Understanding Your Pet's Blood Tests
The benefits of on-site laboratory equipment mean we can conduct blood work tests and receive your pet's results within hours. A fast diagnosis allows us to treat the issue promptly.
Blood tests help us determine the causes of illness accurately, safely, and quickly and let us monitor the progress of medical treatments. Blood testing is often recommended as it helps the veterinarian diagnose and treat different conditions, such as parasites, allergies, diabetes and kidney failure. A common blood test is called a CBC (complete blood count), which helps show the general health of a pet. Our on-site laboratory will give us the information we need quickly to help your pet.